ALLEGED LESBIAN ACTIVITIES
A denim-clad, glitter-crusted, power-ballad performance of local queer histories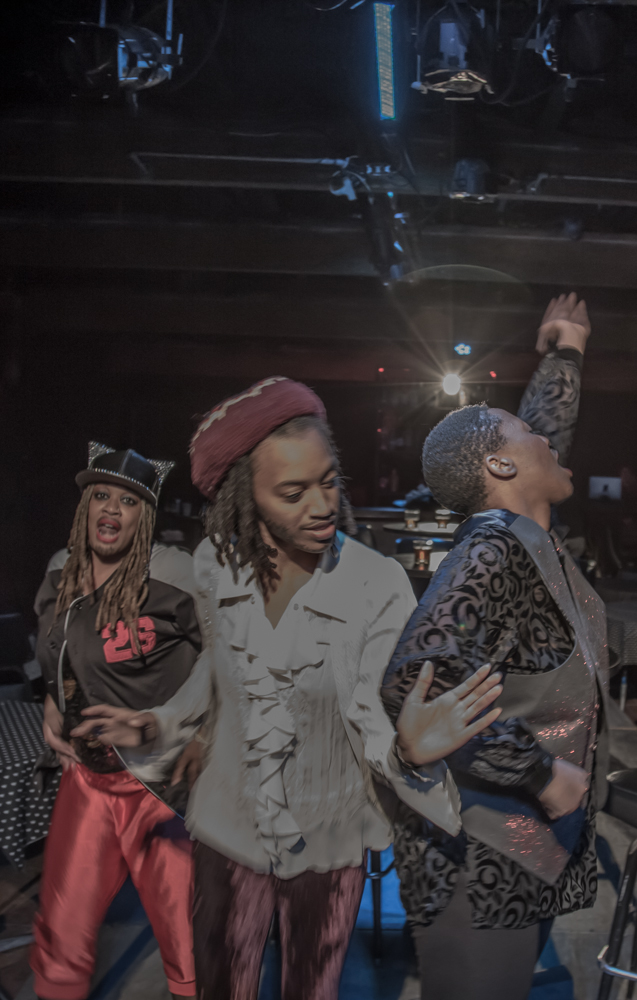 Alleged Lesbian Activities merges the queer traditions of cabaret, burlesque, and drag with original movement, oral history audio interviews, and theatrical stagings to look closely at our vanishing legacy. Our main aim is to bring forth questions about the queer community at present. What do we lose when we no longer have queer-centered spaces? How are race and class intersecting with gender and sexuality in this post-binary world? Though the world seems more queer-friendly than ever in history, for whom among us is it still not safe to step out of the closet?
Drawn together by the closing of New Orleans' last remaining dyke bar in 2012, we have mined Last Call's interviews for inspiration for this performance over the past two years. With a cadre of dedicated collaborators, we've worked for hundreds of collective hours to animate these stories in rehearsals, at the writer's table, in the woodshop, at the computer, and in front of the sewing machine. After a three show work in progress run in January 2016, the final version of Alleged Lesbian Activities will premiere in September 2016 and will tour across the country to theaters, bars, and universities the following year.
Alleged Lesbian Activities includes the voices and stories of:
Alda Talley, Paula Kilbourne, Liz Simon, Leslie Martinez, Juanita Pierre, Donna Bechet Kilbourne, Diana Panera, Maxx Sizeler, Mardi Youngblood, Mary Pappas, Diane Schneider, and Mary Capps.
COLLABORATORS
Aminisha Ferdinand...choreographer (Butch/Femme)
Ashley Teamer...promotions designer
Asia Vinae Palmer...performer, writer
Bear Hebert...lead writer, production manager, core organizer
Blu Reine...core organizer
Bonnie Gabel...co-director, dramaturge, core organizer
Brian Coogan...composer (Anita Bryant March)
Cessali Fournier...stage manager, assistant director
e. lang...performer, writer
Erin Roussel...performer, assistant stage manager, core organizer
Free Feral...podcast producer
Hannah Adams...lighting designer
Hannah Pepper...performer, writer
indee mitchell...co-director, choreographer, dramaturge, performer
Jeremy Guyton...choreographer
Jo Nazro...sound designer
Keisha Slaughter...musician, composer
Laurita Marie...performer
Lisa Luongo...performer
Maxx Sizeler...set builder
Melisa Cardona...photography
Nelle Mills...set designer, lead carpenter
Peter Bowling...podcast producer
Rachel Lee...podcast producer, core organizer
Rebecca Mwase...performer, composer, vocal facilitator & coach
Rocharlotte Raphael...costume designer
Sara Pic...house manager, core organizer
SUPPORT
Alleged Lesbian Activities is made from the support of MAP fund with funds from Creative Capital, Platforms Fund, Dancing Grounds, New Orleans Jazz and Heritage Foundation, and our community.